Often when one hears the mention of face peels, you instantly think of chemicals burning your skin off. The thought of a product with chemicals that can remove dead skin in flash is pretty terrifying.
However, not all peels are scary, they are also often the solution to pigmentation, dullness, and breakouts. There are some fabulous milder at home peels, for those not brave enough to try the Salon versions. These promise to leave your skin looking and feeling smoother, brighter, and absolutely glowing.
Here's my pick of the best seven.
Mario Badescu Glycolic Acid Toner £15.00

Although quite a strong exfoliator, you'd never really be able to tell. The teal-coloured liquid feels cool and refreshing over the skin, while gently removing dead skin with 2 percent glycolic acid and grapefruit extract.
Derma E Overnight Peel £11.50

Wake up to beautiful skin with this overnight peel. Apply a thick layer of this lotion before bed and let the glycolic and fruit acids get to work sloughing off dead skin while you sleep.
Murad Hydro-Glow Aqua Peel £40.00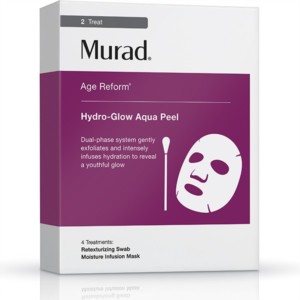 A two step system, with the swab you sweep across your face during the first step containing your exfoliators, which are a mix of glycolic and lactic acids. The second step which is a bit gentler, is the hyaluronic acid-infused sheet mask which ensures your skin doesn't dry out.
NU SKIN 180°® AHA FACIAL PEEL AND NEUTRALIZER £ 62.75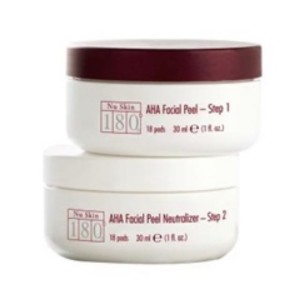 A two step peel and neutraliser system. This scientifically proven formula sweeps away the appearance of aging and sun damage without the recovery time required by aggressive clinical peels. Stimulates collagen production to diminish visible lines and wrinkles. Also helps retexturise rough skin and lighten surface discolouration.
Cellex Speed Peel Facial Gel £27
Cellex-C Speed Peel Facial Gel gently peels dull, dry, superficial skin cells whilst polishing your skin to produce a smooth radiant texture and glow. Tropical and desert plant extracts renowned for their superb moisture binding and exfoliating qualities enhance this peel.
No7 Youthful Glycolic Peel Kit £25
A 3 step glycolic peel treatment with great anti-aging results.
The Peel is an intense exfoliator containing 10% glycolic acid and 0.5% glucono delta lactone, sweeps away dull and uneven skin.
The Post Peel Neutraliser containing glycerin and pro-vitamin B5 works to halt the action of the peel
The Calming Recovery Balm with a blend of emollients, shea butter plus white and extracts of liquorice help to soothe the skin after treatment.
Peter Thomas Roth Firm X Peeling Gel £27.00

A luxurious exfoliating peel which unclogs pores and removes dead skin cells. Formulated with a blend of multi-action Enzymes including Pineapple, Pomegranate and Keratinase which help to decongest the skin by slowly dissolving dead surface skin cells without drying, irritating or causing undue stress to the skin.