Loubilaque, the brand new line of lip glosses from master of covetability, Christian Louboutin.
These gorgeous crystalline, teardrop-shaped tubes are the latest addition to the Louboutin Beauty collection.
In all honesty what can I say about these other than you have to own at least one!!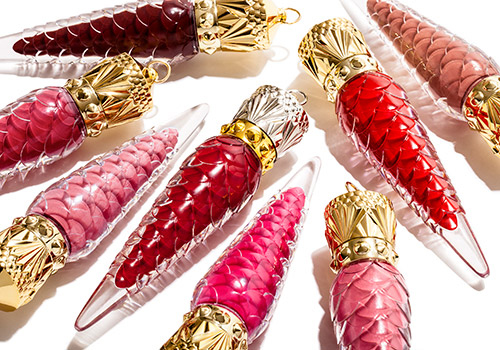 Available in 8 shades, starting with the  Rouge Louboutin,  the glosses also come in seven additional shades. Two of the favourites from other Louboutin lip lines, Bikini, a ballerina pink and Bengali, a bright watermelon with the addition of five new colours Altareva, a glittery peachy-neutral, Akenana, a nude-pink with silver shimmer, Altressa, a bright orange, Casanovella, a deep chocolate with a silver shimmer, and Colibretta, an opaque blush. They go on heavily-pigmented, almost like a liquid lipstick, but with a high,  shine.
Like the brand's previous lip colours, the ornate caps come with a small loop that can be threaded with the accompanying silk ribbon and worn as a necklace.  The full collection launches on  July 1, (my Birthday!!!! yeay)