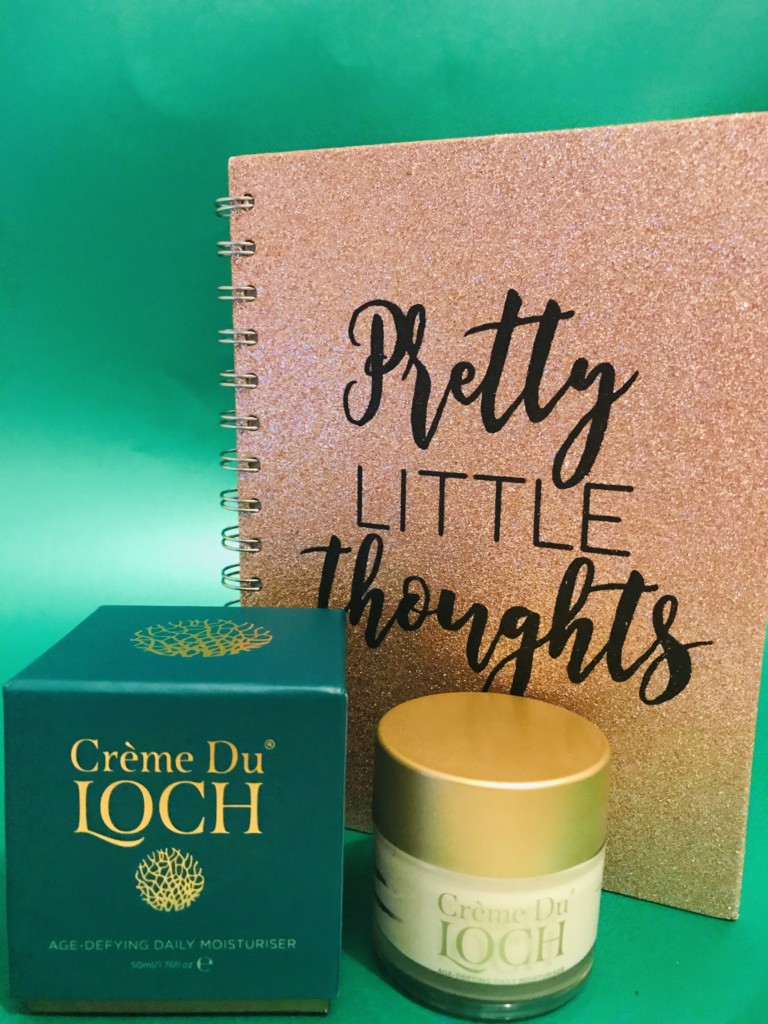 I was recently sent this gorgeous cream to review. Here's what I learnt about the Yorkshire based brand and the product itself.
The Brand
Creme Du Loch is a luxury British skincare brand, dedicated to producing the finest products using high-grade skin nourishing ingredients, which are responsibly sourced.
The Creme Du Loch Age Defying Daily Moisturiser, harnesses the power of Scottish waters and has been expertly created by the founders of Dermaloch and leading biochemists that have over 40 years of skincare expertise.
"The secret at the heart of Creme Du Loch is our unique blended formula. With high mineral, anti-oxidant and vitamin content; our creme nourishes the skin and slows down the signs of ageing whilst promoting a youthful, healthy glow."
What's Inside
"Every one of the active ingredients has been chosen for its age defying properties and contribution to skin health." Dr Sheard.
The latest variant of Retinol.
The finest, refined farmed Scottish Kelp Extract,

Kelp's abundance of minerals penetrate the skin and remove toxins. It's anti-inflammatory properties, can reduce the appearance of breakouts, leaving you with clearer, healthy skin.

It also aids in the protection, maintenance and regeneration of cells at the skin's surface. This leads to an overall improvement in skin firmness and a reduction in the appearance of fine lines and wrinkles. Anti-oxidants in kelp also help protect the skin against UVA rays, daily pollution and external aggressors, all of which accelerate the ageing process.

Chamomile Flower Oil Anti-oxidant rich and a strong anti-inflammatory which is great for sensitive and acne prone skin-types. Eliminates free radicals which damage the skin and accelerate the ageing process. Increases the penetration and effectiveness of other skincare ingredients.

Cucumber Seed Oil is high in Palmitic Acid – This type of fatty acid can alleviate irritation. High in anti-oxidant activity, palmitic acid is an effective anti-ager, diminishing the appearance of fine lines and wrinkles.

Cranberry Seed Oil the only oil that has a perfect ratio of omega-3 to omega-6 fatty acids, increasing skin absorption. Its very high anti-oxidants properties are potent at preventing the visible signs of ageing.
Vitamin E An important anti-oxidant and nutrient for the skin. Prevents the formation of fine lines and wrinkles by blocking free radical damage. Can help lighten brown spots by lubricating cell membranes and encouraging cell regeneration.
Rose Hip Oil which is rich in vitamins A and C which work together to help increase cell renewal. Rosehip is also rich in antioxidants and a essential fatty acids which give a more youthful appearance.
My Review

First up is the packaging. I love the contrast of the Emerald green and gold embossing on the outer box which sets the the tone of a high end luxurious product. It also made me instantly think about the key ingredient – the Scottish Sea Kelp.
I was happy to learn that Creme Du Loch is both cruelty free and vegan friendly. I have been using the moisturiser for about a week now. Firstly just in the morning and for the last few days, I switched up my usual night cream for Creme Du Loch. My initial thoughts were of how light the moisturiser felt on my skin. Based on what I had read, I was expecting a richer, maybe even heavier product. I was however pleasantly surprised that it didn't weigh my skin down but still felt luxurious. You can also instantly smell the Cucumber extract, which some people may not like, It did somehow again connect me to the Sea Kelp.
I've often used moisturisers that have left me needing to reapply during the day. This is mostly due to the fact that I have pretty dry skin. Since using Creme Du Loch, I can honestly say I have not needed to top up during the day! For me that is definitely a win win for sure. I am also enjoying noticing the subtle difference in the mirror and am looking forward to seeing how much my skin benefits over the coming weeks.
Creme Du Loch are currently offering Free Shipping, including to Europe, US and Canada.
Priced at £49 /$60 for 50ml you can get yours at www.cremeduloch.co.uk
If you signup to their newsletter you can get 20% off your first order.