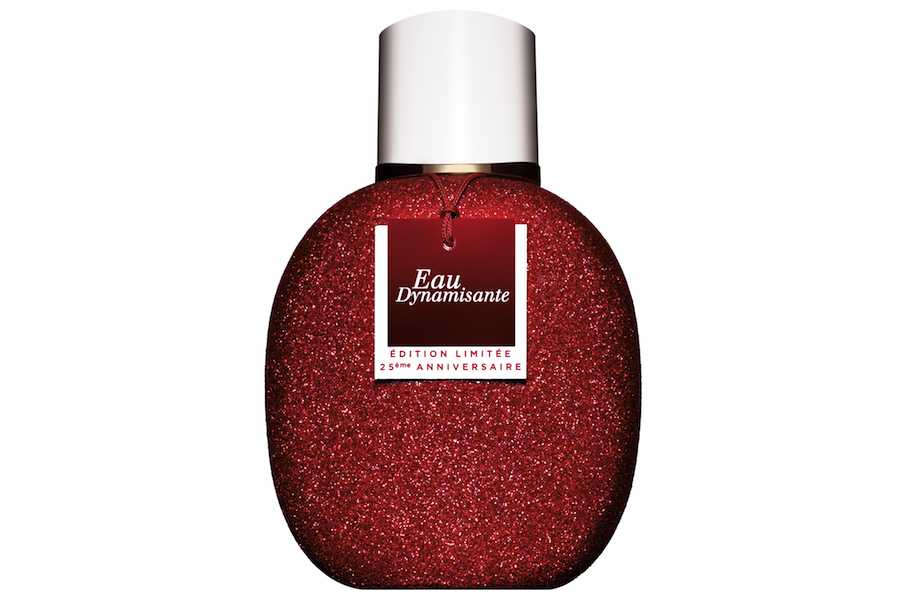 My first memory of Clarins Eau Dynamisante was when I walked onto the Clarins counter in Harvey Nichols as a Consultant some 18 Years ago!
I remember how fresh, invigorating and very distinct the fragrance was. My love affair with this iconic fragrance has stayed consistent for nearly two decades. So imagine my delight when I received the special sparkle 25th Anniversary bottle!!!
Presented in a glittering ruby red bottle, the innovative treatment fragrance sparkles with 14 aromatic essential oils and therapeutic plant extracts. With its invigorating aroma and aromatheraputic capabilities, Eau Dynamisante is an ideal moisturising, firming and toning product.
How to Use:  Apply generously all over the body after showering, exercise or at any time to refresh and boost vitality. Its non-photosensitising formula allows it to be safely used in the sun.
What's in it: Patchouli, White Thyme, Petit Grain and Rosemary – scent, promote a feeling of freshness, vitality and well-being. Extracts of Ginseng, Eleutherocoque and Harpagophytum 'tone'. Extracts of Aloe and Ispaghul moisturise and soften.
Eau Dynamisante Fact: One bottle is sold every 3 minutes in the UK.
available in store now. www.clarins.co.uk