Dull, uneven skin tone,  along with dark spots and pigmentation from the sun, are key tell-tale signs of aging. For more than 50 years, hydroquinone has been the gold standard for reversing hyperpigmentation, however. It can cause sensitivity and redness, and some claim hydroquinone poses a cancer risk, although it's cancer-causing properties have yet to be proven in humans. In addition to hydroquinone, there are many new ingredients for brightening,which are working to minimize unwanted pigmentation.
These new dark spot correctors have raised the bar when it comes to correcting dark spots and uneven skin tone.  Here is my pick of products worth a try.
Dr. Andrew Weil for Origins™ Mega-Bright SPF 30 Skin Tone Correcting Oil-Free Moisturizer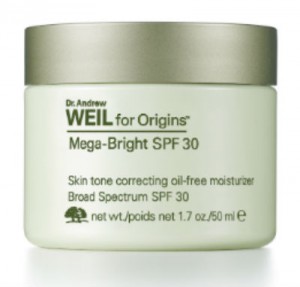 This multi-tasking brightening moisturizer is a great option for the warmer summer months because it is oil-free and formulated with SPF 30. Existing dark spots are targeted by a combination of Rosa Roxburghii, a vitamin C loaded rose from southwest China, white peony, and melanin inhibiting palmaria, which work together to visibly reduce pigmentation and transform dull skin. SPF 30 protects the skin from damaging UV to prevent future spots. In a clinical study, 91% of the panelists showed measurable improvement in skin tone after four weeks of using Mega-Bright every day.
Use this one during the day, and the original Mega-Bright without SPF at night.
Peter Thomas Roth Professional Strength De-Spot Plus 
This new dark spot corrector is an over-the-counter hydroquinone option to reduce the appearance of sun spots, freckles, acne scars. It contains 2% hydrqouinone, which is the maximum allowed by the FDA in a non-prescription product. It also features Illumiscin®, niacinamide PC, Actiwhite™, Chromabright™, and Lipochroman-6 to synergistically reduce the intensity and size of spots and help prevent new discoloration from forming, and caffeine to help condition the skin.
The Laser Treatment Clinic Ultra-Light Derma White
This revolutionary formula contains an exclusive blend of safe clinically proven ingredients which have been clinically tested and shown to have proven efficacy in lightening and brightening all types of pigmentation on the skin and reduce the appearance of brown/age spots on the face and body. Targeting hyper-pigmentation, pigmented scars from damage to the skin, pigmented acne scars, brown spots, age spots, freckles, sun damage, skin discoloration and uneven skin tone. For a more illuminated, youthful looking skin tone.
Peter Thomas Roth Camu Camu Power Vitamin C Brightening Sleeping Mask 
Peter Thomas Roth also offers a new non-hydroquinone alternative to brightening and reducing hyperpigmentation: a new sleep mask that smells of orange. Camu Camu berry is a potent superfruit from the Amazon and gives you 30 times more vitamin C per ounce. It also is supposed to absorb better because of its low molecular weight and therefore functions beautifully as a lightweight sleeping mask that will not stain sheets. Arbutin, helps diminish the appearance of un-even skin tone, fine lines, as well as wrinkles,
Stockists:
http://www.origins.co.uk/ 
http://www.thelasertreatmentclinic.com 
https://www.peterthomasroth.com