Latte makeup was one of summer's hottest beauty trends with everyone from celebrities to influencers filling our feed with their version of this earthy, nude look. The hashtag #lattemakeup has over 350 million views on TikTok alone.  The good news is you haven't had a chance to give it a go yet, you'll have plenty of time as it will be transitioning into Fall. For those who love subtle nude shades, latte makeup is your new upgraded version, it works because it consists of layering various shades of brown for a monochromatic look. Remember, can go as subtle or as bold as you wish.
Below, I've picked out some of my favourite new products to help you create this viral look for Fall!
Rouge Hermès, Shiny lipstick, Limited edition, Rouge Bruni £66
Rouge Hermès is a complete collection dedicated to the beauty of lips. Designed by Pierre Hardy the lipsticks are functional and refillable. A durable object in lacquered, polished and brushed metal, Rouge Hermès is protected by a canvas pouch and comes inside the infamous little orange box! The Rouge Hermès Autumn-Winter 2023 collection introduces three new limited-edition colors that are as intense as they are luminous.
Rouge Bruni is the perfect Fall colour, a strong brick red with warm, velvety overtones.
Chanel Douceur D'Equinoxe Powder Harmony with Brush £54
Created exclusively for Fall-Winter 2023, this blush duo pairs an intense shade with a softer one, calling to mind the contrasts of colour and light that are characteristic of the autumn equinox. Soft, warm tones accentuate the cheekbones and add radiance to the complexion, for a natural-looking healthy glow and luminous finish. The blanket of leaves delicately embossed on the powder's surface is a tribute to autumn, Gabrielle Chanel's favourite season.
Glazed LH Cosmetics,
Featuring a sheer but sparkling formula that leaves your lips looking and feeling luscious, this high-shine gloss is enriched with moisturising avocado oil and volumising peptides, and features a subtle vanilla fragrance. The sparkling effect comes from vegan pearls, so no plastic here!

Danessa Myricks Groundwork: Defining Neutrals Face Palette

£68.00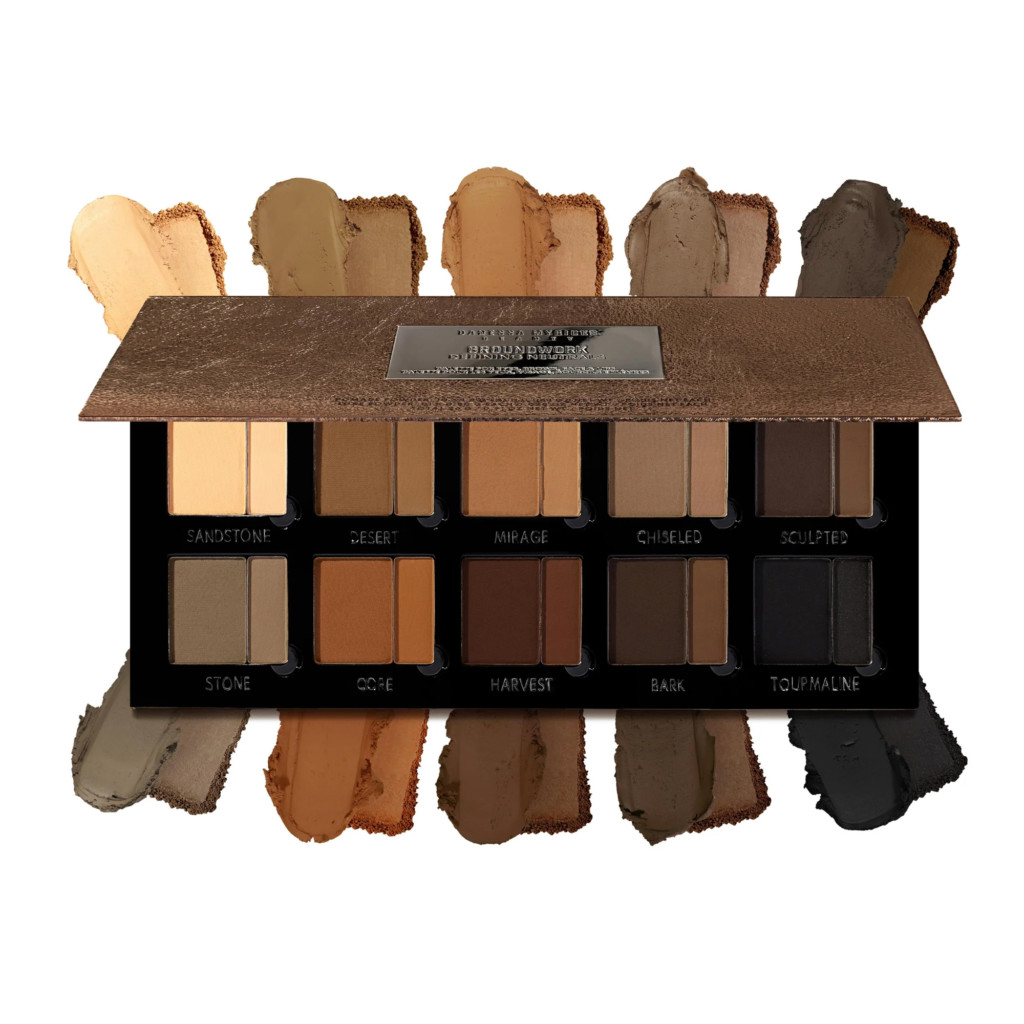 A multi-use, talc-free face essentials palette with velvety pomades & coordinating oil absorbing shaping powders that easily define eyes, brows, cheeks & lips.
With curated neutral shades for all skin tones. A collection of 20 satiny pomades and coordinating oil-absorbing shaping powders in neutral, warm, and cool-tone hues, make this palette perfect for framing the eyes, eyebrows and sculpting. With versatile velvety pomades that are rich but lightweight and powders powered by upsalite for strong and long-lasting colour payoff.
Fenty Beauty Shadowstix Longwear Eyeshadow Stick
£22
A collection of creamy longwear eyeshadow sticks that deliver high-impact colour intensity in just a single swipe. Each matte and shimmer shade were expertly developed to create endless looks. Effortlessly flatter every skin tone and define every eye shape with intensely pigmented, blendable matte and shimmer shades. Sculpt and highlight using either the flat or pointed side.
Dolce & Gabbana Devotion Liquid Lipstick in Mousse £38
Dolce & Gabbana's latest makeup collection Devotion for Fall 2023 is a must try.
The Devotion Liquid Lipstick has a soft, lightweight, no-transfer and long-lasting texture for up to 16 hours, that immediately releases intense, high-coverage color on the lips. Designed with a precise applicator for extreme lip definition.
The vegan formula has a soft, lightweight texture for easy and precise application on the lips, crafted with an upcycled active ingredient obtained from Italian Avocados from Sicily, known to boost lip hydration.
Christian Louboutin Teint Fetiche Baume De Teint Foundation-Concealer Balm £52
A multipurpose foundation-concealer-balm with a luminous finish and buttery soft texture that melts from a solid to liquid makes this ideal for the Latte makeup look.
The formula fuses with skin to reveal its most glamorous potential. The foundation spot-conceals and offers up to 12-hours of flexible, second-skin coverage thanks to the formula powered by Christian Louboutin's Dermaglam complex, a unique combination of ingredients enhanced by ceramides and undaria pinnatifida extract for hydration and comfort. Available in 14 shades in three shade families.