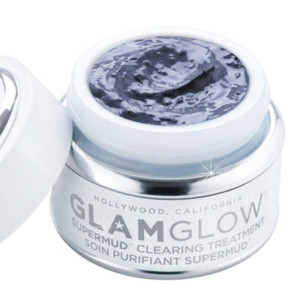 We all get those annoying dark spots that we hate. Hyperpigmentation is usually the reason we get these dark patches and while it can affect anyone, Asian and Black women are most susceptible to it. Anything from a hormone imbalance to sun exposure and acne can trigger it. I've recently noticed darker patches around my laughter lines which are pretty 'annoying' and ok, yes I will admit that maybe only I can see them, nevertheless they are bad enough for me to want to find a solution.
Glam Glow SuperMud Clearing Treatment which contains glycolic acid, not only de-clogs and minimises pores, but also helps to clear hyper-pigmentation, scarring, and breakouts.
WHAT IS GLYCOLIC ACID?
Glycolic acid, is a type of alpha hydroxy acid which is great on dark patches as it promotes cell renewal. It works to expose the healthy layer of skin beneath the outer layer of the epidermis.
Use daily as a mask or spot treatment.
Price: £45.00