It's been a little over a year since I discovered Nu Skin, during that time I have been lucky to have tried some amazing products. Needless to say a year on I have become a huge fan. As far as anti ageing luxury products go ageLoc has not put a foot wrong with any of its ranges. Take the Transformation set for example. It is exactly that, and your skin will thank you for the treat.
This post however, is about the newest addition to the ageLoc family and that is the ageLoc me skincare system  a first-of-its-kind anti-ageing skin care system combining customisation, face care and innovation.
Nu Skin has created an entirely new approach to anti-ageing skin care. The ageLOC Me touchless delivery device which is the winner of The Techies 2016 award for most innovative product in retail, makes daily skin care more streamlined. In essence, it is a 'very advanced'  hand dispenser designed for all of your skincare products. ageLoc Me dispenses day and night skin care lotions and serums, simply by placing the hand under the dispenser.
Along with the device there is a month's supply of reference products. The purpose of the products is to enable you to learn about your skin's needs and  preferences before customizing your regime.
Customised anti-ageing treatments are provided in 3 serum airless cartridges. The cartridges maximise protection of active ingredients and are delivered in one click – delivering more active ingredients than one could put into a single bottle.
A skin assessment is carried out by an intelligent algorithm which works out what your skin needs based on your preferences, region and choices combined with Nu Skin's expertise.
The Serums reduce the appearance of fine lines and wrinkles. Smooth the appearance of fine lines. Increase skin brightness and radiance, reduce discolouration, age spots and uneven skin tone. Firm  around the chin, jawline, eyes and neck. Smooth rough skin texture and reduces pore size.
The Day & Night Moisturisers are designed to work in conjunction with each other, providing comprehensive 24-hour protection. They help strengthen and repair the skin's natural moisture barrier, increase hydration and elasticity, and calm and soothe the skin.
What's in the box?
1. ageLOC Me
2. One day moisturiser
3. One night moisturiser
4. Three serums
5. Serum cartridge holder
6. Device connector
7. ageLOC Me user's manual
8. Getting started guide
9. Four alkaline batteries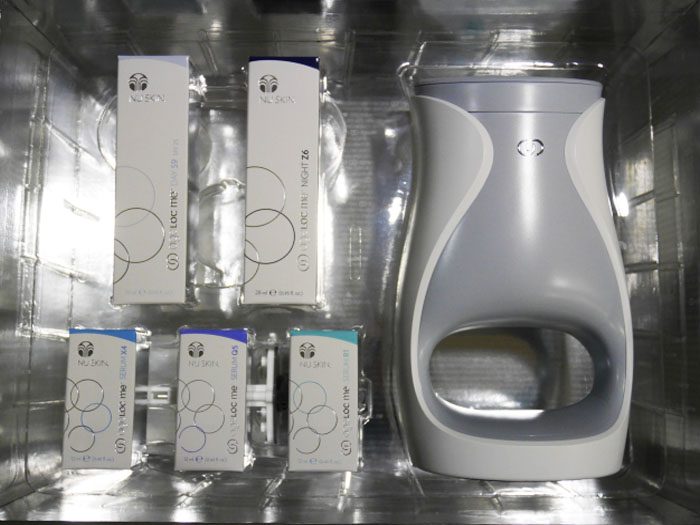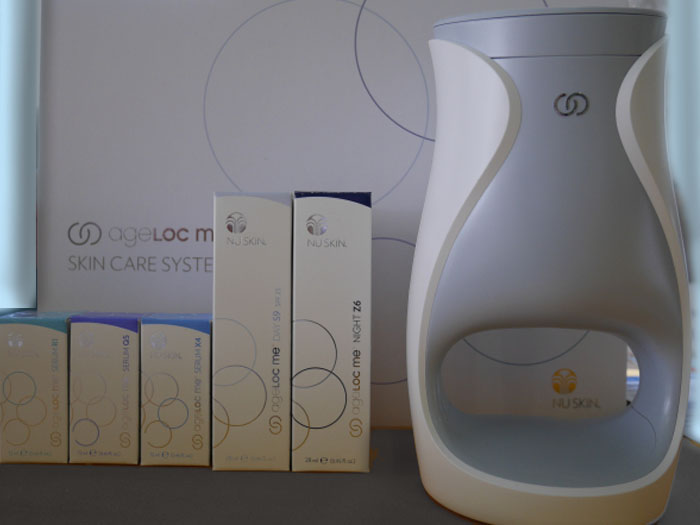 So let's talk more about the assessment. The test is available on nuskin.com  and also on the mobile app which is central to the product. Designed to help determine your skin care needs through a series of questions relating to your region, environment, individual skin attributes, personal ageing concerns, and even your preferences for a light or heavy moisturiser too. This generates a personal skin care code, which is used to order a custom set of products. Nu Skin says there are a possible 2,000 combinations, so it is easy finding the perfect match for everyone. At the end of the assessment, you will receive your personal skin care code, this is what you use to order your tailored set. Each set you order has a one-month supply of three serums, along with a day and night moisturiser.
My Verdict: After trialling the device for 2 weeks, I can tell you that apart from the fact that my bathroom looks a whole lot futuristic, with this smart gadget in it. Having a one touch dispenser that delivers the exact dose my skin needs is a god send. when you're constantly on the go, having a flashing reminder telling you it's time to dose up on skincare is great! I love the device, and as I said before I love the transformation kit. Now with the addition of the customised serums I am really happy with how my skin feels.
Like other ageLoc products this is definitely in the Luxury high end spectrum of skincare regimes for your skin.
Is it worth the investment? If you're serious about your skincare and like me your a tech geek, then yes!! I think this is going to be the future of skincare in years to come.
Price: £608.00     www.nuskin.com