The Wedding season is almost upon us and as amazing as it is for us on the inside. It can be pretty daunting for those that are embarking on the beautiful journey of planning their big day.
Although every aspect of the wedding planning is a journey in itself… There is one thing I get asked over and over again and that is 'How do I book a Make Up Artist?'
So for all you gorgeous ladies that need a little advice read on…
Research.
When you start trawling through the wedding magazines, you are inundated with Make Up Artists all offering their services. With the ever increasing extreme levels of re-touching that we now see, do not take the gorgeous images in Bridal Magazines as the holy grail. Visit the Artist's website, or online portfolio; the quality of their work needs to be consistent across all genres. Check for recommendations, endorsements but more importantly see if anyone you know has booked with the Artist in question.

Book a Consultation and a Trial.
Consultations and trials are the best way to see if a makeup artist or their style is for you. Most Artists offer complimentary consultations but charge for a trial. It is worth paying for the trial as it gives you the opportunity to try out a makeup look and see if it works for you. The trial is a great way to test the longevity of the makeup, as well as observe their work ethic. Your makeup artist will be spending the last few hours of your singleton life with you, so it's important to book someone you trust and feel comfortable with.
A good Artist is not one that is merely good at the application aspect of her job. But one that has the ability to make you feel good without even touching your face!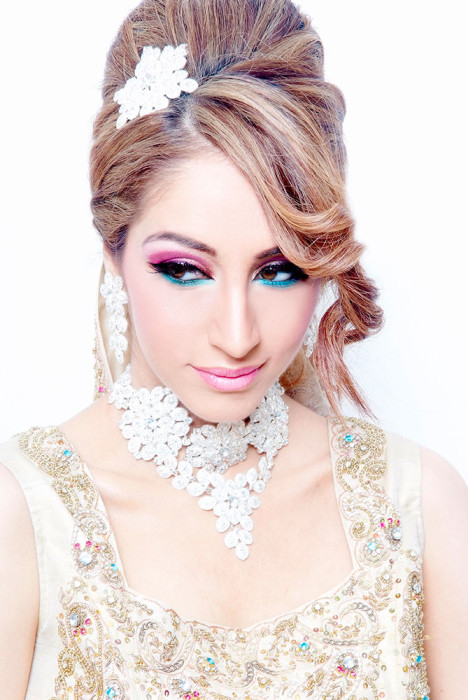 Understanding Pricing
If you've never booked a makeup artist before, you may be shocked at current market rates. As a guide you can expect to pay anywhere between £300 and £1000 per event. It may seem like a lot, but the price charged often reflects the Artist's experience and current demand. Artists fees should also cover, Travel, Products, Hair Pieces etc.. It is upto you to decide whether the Artist in question is worth the Price Tag!
On the other hand, there are some artists who appear to be really cheap. The lower price may sound good, but you must ask yourself is it worth it? Artists who undercut others by a huge amount need to be checked out properly. I would be keen to know why they are that cheap. Not always, but often enough, cheaper artists tend to be unqualified and un-insured and will lack the basic in product and tool hygiene.
Get it in Writing.
Make sure you have a written agreement with your Artist. The agreement usually states dates, time, services booked fees agreed, deposit paid. Make sure you read through the contract before signing, things to look out for are extra charges for waiting or delays on your part. As you need to be aware of this, when signing. Don't be afraid to ask your makeup artist for any clarification. Bookings are usually only confirmed once a deposit is paid after which both the Artist and the client are contractually obliged to see the booking through.
Happy Hunting!